Building Community Support for Diabetes Care
Richland County Health Department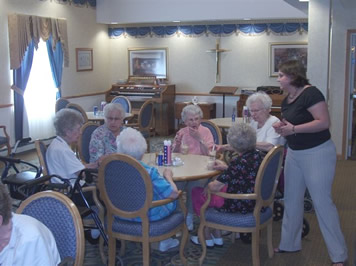 221 5th ST SW
Sidney, MT 59270

www.richland.org/health

The Richland County Community Diabetes Project (RCCDP) was developed by the Richland Health Network, a unique partnership among the Richland County Health Department, the Sidney Health Center and the Richland County Commission on Aging. This network provides a variety of services to frontier agricultural communities in Richland and McCone counties in eastern MT, several hours drive from any major towns or cities. Severe winters further isolate these communities and limit opportunities for physical activity. Change typically comes slowly here.

The RCCDP was dedicated to building a community environment that supported diabetes self management. Focus groups conducted during the project's planning phase identified a desire in the community for more information about diabetes. Although health care providers were reported as the most important source of information for managing their care, the participants wanted practical, understandable information that they could apply in their daily lives.

To address this need, RCCDP created the Diabetes Education and Support Group. At the monthly meetings, participants learned and talked about topics related to diabetes. These meetings were free and open to the public. The RCCDP also developed an ADA-recognized Diabetes Education Center. Housed at the Sidney Health Center and coordinated by the Richland County Health Department, the center helped strengthen the clinical-community partnership. Other interventions that brought diabetes self management into the everyday lives of the community included a walking club, weight-loss program, worksite wellness activities and, of course, the Tasty Fork contest.

Prior to the creation of the RCCDP, few resources existed outside the clinic setting. Community agencies and clinical providers seldom talked together about diabetes self management. RCCDP changed all that by linking clinical and community care models to strengthen the continuum of care throughout the area's health care system. The project brought these groups together for regular discussion, and as a result, several diabetes self management, health education and health promotion interventions were implemented.

The key to each of these interventions was the involvement of the larger community in the project and coming together around the goal of bettering residents' health. Collaboration greatly increased since RCCDP demonstrated how a frontier community with limited resources can successfully build community supports for diabetes self management.



Summary
Key Interventions
Monthly Diabetes Education and Support Group
Live Your Best Life chronic disease self management class
Walking programs, supported by physicians using exercise prescription pads and the development of free indoor walking options
Participant newsletter
Public awareness campaigns
Enhanced community resources including diabetes education materials in the library, the Tasty Fork program to increase public awareness of healthy restaurant options, community walkability assessments,
Thin2Win weight loss contest, and worksite wellness campaigns
Key Accomplishments
Developed a multilevel program using an ecological framework
Expanded and strengthened the continuum of diabetes care through greater collaboration among key clinic and community partners
Lessons Learned
An ecological approach provides a comprehensive model to initiate and sustain diabetes self management
The unique partnership between the hospital and the health department promotes synergy through sharing and streamlining of key diabetes services
Grantee Presentations
Program Materials