What is Self Management?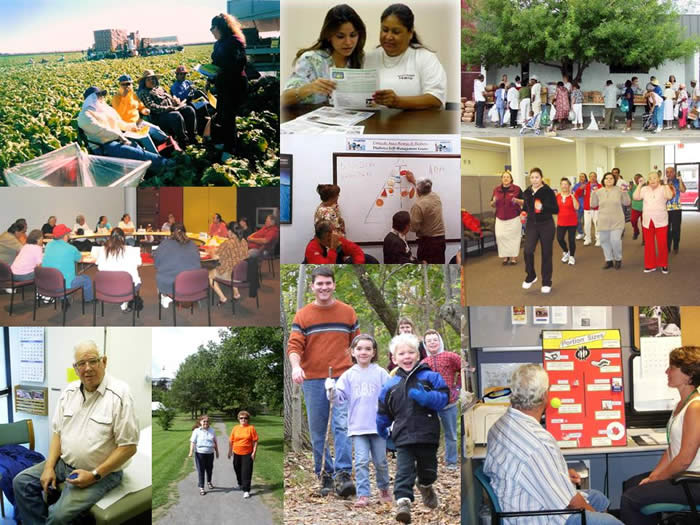 Self management is what people do to manage their diabetes or other
chronic condition and its effects on their physical health, daily activities,
social relationships and emotions.
Managing diabetes is a lifetime "24/7" job. Practice guidelines recommend 3-4 medical appointments a year – about two hours for the average patient. For the remaining 8,760 hours a year, an individual with diabetes is responsible for managing their disease – taking medicines as prescribed, measuring blood sugar and adjusting medications accordingly, eating a healthy diet, getting regular physical activity, and avoiding or managing stress and negative emotions. All of this needs to be incorporated into the complex routines of family, workplace, and daily life. To be successful, people need support for self management.
Click here to download an overview presentation on self management.
What Individuals Need
Self management support is the systematic use of education and supportive strategies to increase patients' skills and confidence in managing their health condition and the problems that may arise. It also refers to the organizational structure health care settings
can implement to facilitate improved patient self management.
The Diabetes Initiative was developed in recognition that important resources and supports for diabetes self management are not typical in health care. Viewing self management support from the perspective of people with diabetes, the Diabetes Initiative developed the Resources and Supports for Self Management (RSSM) framework which was then used by grantee projects to develop comprehensive programs.

Resources and Supports for Self Management
RSSM includes six categories that provide a framework for planning, implementing, and evaluating self management supports in any setting. Specific strategies may vary from setting to setting depending on the unique needs and capacities of a particular setting and the population it serves. Addressing these six components ensures a comprehensive approach to supporting self management among people with diabetes:
Continuity of high quality, safe clinical care
Individualized assessment and tailored management
Collaborative goal-setting
Key skills for disease management , healthy behaviors, and problem solving
Ongoing follow-up and support
Community resources
Diabetes Initiative project s used a variety of strategies to address RSSM in their self-management programming. Throughout this site you will be able to learn more about their approaches and find resources they developed to address RSSM in their settings.