Build a Program
Steps for Planning and Building a Program
Developing a diabetes self management program entails assessment of your audience's needs, assessment of your organization's strengths, selection of key program elements and approaches, ways to assess progress toward improvement and a plan for integrating effective approaches into the system of care.
Assess Your Current Capacity
The Diabetes Initiative developed new tools to facilitate the advancement of self management supports in primary care settings and through clinic-community partnerships. These are self assessment tools intended to help assess current status and suggest areas for improvement.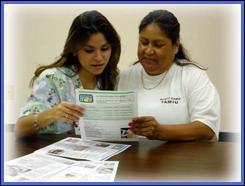 Key Issues in Diabetes Self Management
Over the course of the Diabetes Initiative, several themes emerged from the collective experience of the Diabetes Initiative grantees. Attention to these aspects of self management support can improve resource and supports provided: