Build a Program
Integrating Self Management in Primary Care
Because primary care systems were designed to respond well to acute medical conditions, treatment of chronic conditions presents challenges. Faced with a growing number of patients with chronic conditions such as diabetes, traditional primary care systems are exploring ways to improve their capacity to provide quality care for people with long-term health conditions.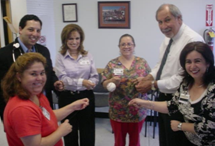 Self management support is a key component of the Chronic Care Model and essential for quality chronic illness care. Six primary care self management demonstration projects were funded by the Advancing Diabetes Self Management (ADSM) Program of the Robert Wood Johnson Foundation Diabetes Initiative. ADSM projects demonstrated that comprehensive approaches to diabetes self management can be delivered in "real world" primary care settings and can significantly improve patient outcomes.
Using their projects as learning laboratories, ADSM grantees identified characteristics of self management support that can be measured* and improved to increase capacity for chronic illness care. Self management support is divided into two categories: patient support and organizational support. Click here to see the eight patient support characteristics and here for the eight organizational support characteristics.
* The PCRS tool is designed to measure self management support in primary care.