Build A Program

Assess Your Current Capacity
Key Issues
Ongoing Follow-up and Support

Build a Program
Ongoing Follow-up and Support
Because diabetes is "for the rest of your life", a key component of successful diabetes self management programs is ongoing follow up and support. Studies have shown that people with diabetes who incorporate self management into their lives and sustain it have better metabolic control and quality of life. Diabetes Initiative grantees have developed innovative approaches to providing ongoing support and identified key features of this critical component of diabetes care. (Click here to download an overview presentation on Ongoing Follow-up and Support)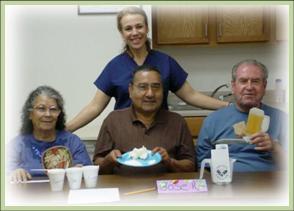 Key Features of Ongoing Follow Up and Support
On Demand
To fit into peoples' lives - "for the rest of their
lives"- services available as needed allow patients to customize support in a way that best fits their lives. Examples include drop-in breakfast clubs, supermarket tours, drop-in snack clubs, and exercise classes.
Proactive
To keep individuals from "falling between
the cracks," contact needs to be proactive
and provided on a routine basis whether
people seek it out or not. Examples include
planned visits, phone contact, newsletters and similar contacts.
Additional Features of Ongoing Follow Up and Support
Based on an existing Relationship
Individuals with diseases like diabetes want consistent contact with someone who knows them, is familiar with them, and cares about them. This can be the primary care provider but can also be another member of the diabetes care team.


Motivational (Nondirective or Directive Support)
Especially for those who have had diabetes for many years, the focus of follow-up and support is really on motivation and encouragement rather than teaching new skills or provoking major changes. Such support should be nondirective - accepting individual's views of things, helping them work on their own goals, and providing encouragement. If people encounter a problem they don't know how to solve, a more directive, take charge approach may be needed.


Inclusive of Environment and community Resources
A person's living environment and community can influence healthy behaviors and influence use of resources. By utilizing community resources, programs can expand capacity and variety, ensure community investment, and build trust and accessibility for follow up and support.


Not limited to diabetes
Diabetes and diabetes management affect every aspect of a person's life – family, work, mental and physical health, etc. It may be just as important to talk about–and help problem solve around—the fact that someone has just lost their job, for example, as it is to talk about healthy diet and physical activity.


Variety is the spice of Follow Up and Support
Depending on the setting, the individuals and other local factors, different approaches may be appropriate for addressing each of the key areas of resources and supports for self management. Follow up and support may include training family members, using community health workers for ongoing support, offering drop-in as well as scheduled groups, or telephone support lines, in addition to contacts by nurses or doctors. Thus, the type of channel used depends on the situation and the desire of the patient.

The Diabetes Initiative was a national program of the Robert Wood Johnson Foundation from 2002 to 2009.
Archived in 2009, this site is a repository for information and resources gathered over the course of the Initiative.