Advancing Diabetes Self Management
Holyoke Health Center, Inc.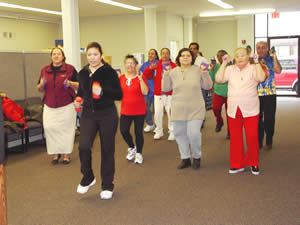 230 Maple Street
Holyoke, MA 0104

www.hhcinc.org

Holyoke Health Center, Inc. (HHC) is a state licensed 501(c)(3) organization established in 1970. It is also a federally qualified community health center and JCAHO accredited. The HHC catchment area encompasses the downtown district of Holyoke that is designated as a Medically Underserved Area and a Health Professional Shortage Area; it is also the poorest area of the city.

The city of Holyoke has the highest rate of diabetes mortality in the Commonwealth of Massachusetts. HHC patients share the burden of this disease and suffer disproportionately. The diabetes project, Proyecto VidaSaludable, focused on patients in HHC's current registry of patients with type 2 diabetes. These patients were 89 percent Latino/Puerto Rican and 100 percent live at or below the poverty level.

The diabetes project at HHC gave patients with type 2 diabetes an opportunity to choose from a wide range of programmatic interventions that were shown to be effective for Latino patients. The Snack Club provided nutritious, easy-to-prepare snacks and offered an opportunity for patients to get acquainted with HHC programs and staff. Patients who had success managing their diabetes were often invited to the Snack Club to provide testimonials to inspire and motivate newly diagnosed patients or those whose diabetes was still not well controlled. The Breakfast Club fulfilled a need for social and emotional support, and was a venue for effective, hands on education. Patients benefited from joining together to eat a nutritious breakfast in a supportive and educational environment, and they began to establish a breakfast routine during the eleven-week session.

Bilingual diabetes education classes were designed to meet the health literacy needs of patients. Many low literacy teaching techniques and tools were utilized in the classroom setting. Individual counseling sessions with a diabetes nurse educator or nutritionist emphasized strategies based on the readiness of each patient to change behavior. Patients who completed Breakfast Club or diabetes education classes participated in a field trip to local supermarkets to apply what they had learned about healthy foods. Chronic Disease Self Management Classes based on the Stanford model were generally offered to patients after they completed either the diabetes education class or the Breakfast Club. Patients learned problem-solving skills, practiced goal setting and action planning and learned new relaxation techniques.

Promotoras were a critical link between clinical staff and patients. Promotoras identified, engaged, and motivated patients with type 2 diabetes who had not seen their primary care provider for routine care in the past four months. The promotoras reached out to these patients to reconnect them with primary care. Additionally, promotoras received referrals from primary care providers and followed up with patients at the health center, by phone or in patients' homes, to provide social and emotional support and education on a variety of diabetes self management topics. Promotoras were trained in goal setting, problem solving, action planning, communication techniques, health literacy and general knowledge about diabetes. They were mentors, teachers and advocates for patients with type 2 diabetes.

HHC's organizational philosophy led to a culture that recognizes the importance of a collaborative relationship among the patient, provider and support staff in order to achieve successful chronic disease self management. HHC anticipated that this culture will result in long-term, positive outcomes for patients with diabetes.
Summary
Key Interventions
Multiple activities that focus on developing and maintaining self management skills and that offer choice to patients:

Breakfast Club, supermarket tours, diabetes education classes, weekly Snack Club, exercise classes, individual consultation with the nurse educator and nutritionist and chronic disease self management classes

Use of promotoras to assist, teach, and empower patients to navigate Holyoke Health Center services and community resources, teach self management skills and provide ongoing follow up and support
Key Accomplishments
Improved organizational capacity for self management support through staff and program development
Developed a promotora program to implement self management interventions
Developed a menu of self management program options to maximize patient access to intervention activities
Improved staff knowledge in relation to self management strategies and techniques
Increased awareness of the impact of health literacy on patients' ability to manage their disease
Lessons Learned
Individual choice of intervention activities is key to helping patients stay engaged in self management
Resources and Supports for Self Management (RSSM) is a useful framework to guide self management program development
Grantee Presentations
Program Materials
Program Publications