Building Community Support for Diabetes Care
Montana-Wyoming Tribal Leaders Council
207 N. Broadway BR-2
Billings, MT 59101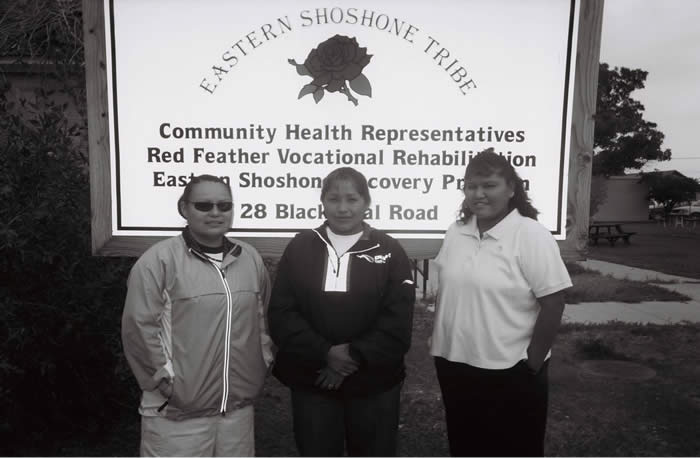 The Montana-Wyoming Tribal Leaders Council (TLC), the Billings Area Indian Health Service (IHS) and Black Hills State University have collaborated to build community supports for people with type 2 diabetes who live on large land-based federal Indian reservations in Montana and Wyoming. Two American Indian tribes/reservations were involved in the project, Building Community Supports (BCS) for American Indian People with Diabetes. They were the Eastern Shoshone Tribe on the Wind River Reservation in Wyoming and the Fort Peck Reservation in Montana. Each of the sites was located in a frontier area, with harsh winters, high unemployment rates and high rates of poverty. Most health care available to members of these tribes was provided by the Indian Health Service, which is chronically under-funded.
The TLC represents nine federally recognized tribes and one non-federally recognized tribe in Montana and Wyoming. The TLC is responsible for health policy and guidance, tribal health directors, and tribal community health representatives. The Billings Area IHS provides health services to over 72,000 American Indians residing on seven reservations in Montana and Wyoming. Facilities include three hospitals, six health centers and three health stations, all operating in highly rural and frontier areas. The TLC-HIS partnership extends to the local sites, with tribal health departments and tribal diabetes programs collaborating with local IHS diabetes program staff to develop and implement BCS programs.
The BCS project had two primary goals: 1) To provide effective, community-based and culturally-appropriate self management programs to Indian people with diabetes, and 2) To offer community-based support and follow up services that encourage and assist program participants to make changes to improve their management of diabetes. In addition, the program aimed to encourage more Indian people with diabetes, who are informed about the effectiveness of diabetes self management, to control their condition, make and keep medical appointments and receive annual foot, eye and dental exams and appropriate lab tests. The program also evaluated and documented the interventions in order to provide tools and methodologies that other tribes could adapt and replicate.
Training for the BCS program at each site was extensive. The project provided training on diabetes, the Diabetes Self management Education (DSME) curriculum, motivational interviewing and follow up support to all tribal health staff, diabetes staff, and Community Health Representatives (CHRs). Tribal-specific DSME programs were offered for both tribes/reservations. CHRs met with DSME participants at least once a month for follow up, motivation and goal-setting.
The Fort Peck BCS program provided follow up sessions as part of a Diabetes Breakfast Program, as well as by telephone and in-person contacts. In addition, people with diabetes were informed of and encouraged to participate in weekly Talking Circles that provided support for self management through sharing and problem solving.
Using this comprehensive collaborative approach, BCS improved the quality of life for American Indian people with diabetes.
Summary
Key Interventions
Training tribal diabetes program staff, tribal health department staff and Community Health Representatives
(CHRs) on all aspects of diabetes, diabetes self management and motivational interviewing techniques
Culturally-appropriate diabetes self management education classes and follow up
Talking Circles/support groups
Use of tribal diabetes program staff and CHRs to provide follow up, motivation and goal-setting
Key Accomplishments
Designed and implemented a tribally tailored curriculum for diabetes self management
Built a successful partnership with Billings Area Office of the Indian Health Service to develop procedures and processes to obtain pre/post clinical data on program participants
Lessons Learned
A participatory approach is necessary for tribal programs to be successful; i.e., community members must be actively involved from design through implementation and evaluation
Community leaders and participants must perceive the program as providing both direct (e.g., improved health outcomes) and indirect (e.g., training and skill-building) benefits for community members.
Grantee Presentations
Program Materials