Building Community Support for Diabetes Care
Center for African American Health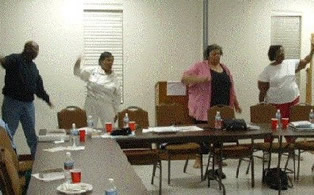 3601 Martin Luther King Blvd.
www.caahealth.org



The Building Community Supports for Diabetes Care project, Focus on Diabetes, was a partnership between the Center for African American Health (CAAH) and Eastside Health Center, a clinic site of Denver Health. The purpose of the project was to improve the health and health-related quality of life of African Americans with, or at risk for, diabetes in northeast Denver neighborhoods, through a culturally-competent diabetes self management course and comprehensive self management services.

CAAH and Denver Health served approximately 17,000 parishioners from 35 black churches, via the CAAH's Faith and Health Ministries Collaborative, and an estimated 2,300 individuals with diabetes and/or cardiovascular disease who were patients at Denver's federally-funded community health centers. Fifteen percent of the parishioners responding to a 2001 CAAH survey reported having diabetes, and another 36 percent reported they have immediate family members with diabetes.

Focus groups conducted by CAAH revealed that African Americans with diabetes have difficulty accepting that they have the disease and changing lifelong habits. Participants said they need to know more about diabetes and its potential consequences, the importance of diet, exercise and blood glucose monitoring, how to prepare healthful foods and where to get guidance and support in managing diabetes.

Focus on Diabetes partners developed a program that addresses those needs through the following key activities:
Diabetes self management (DSM) classes held at the CAAH and taught by African American health professionals and others from partners agencies. Each class included a nutritious dinner and an exercise component. One class was a hands-on cooking class that taught portion control and demonstrated healthful ways to enjoy traditional foods. Flyers about the classes were distributed in churches and at various community sites and events by past program participants, the Outreach Coordinator and Diabetes Advisory Committee members.
Walking programs at African American churches. In addition to promoting walking through churches, a pilot project to help prevent obesity and lower risks for diabetes, called "Lighten Up," was conducted at one church. The program included participants from the DSM classes and focused on physical activity and healthy eating.
Follow up through support groups and, more recently, via telephone, to support people living with diabetes once they completed the self management classes. This innovation, made possible through additional local funding, included ongoing goal setting, periodic A1C testing, and quarterly face-to-face visits.
Community awareness and education activities included seasonal cooking demonstrations; Diabetes Awareness Sundays (information and screening) at black churches; and outreach at churches, beauty salons, barbershops and other community sites using an educational video with a healthy lifestyle message targeted at African Americans.
Focus on Diabetes reached many people who had no previous diabetes education. By tailoring activities to the needs of the audience, Focus on Diabetes hoped to reduce the number of African Americans and their families whose lives are negatively affected by this disease.
Center Staff Receives Award
Bonfils-Stanton Foundation Announces 2007 Livingston Fellows
Summary
Key Interventions
Community diabetes education classes that incorporate physical activity and experiential learning about healthy eating
Walking programs and outreach in African American churches
Participation in community screenings and outreach activities
Periodic standalone sessions such as seasonal cooking classes, dental screening, depression workshop and a summer cookout
Key Accomplishments
Developed a culturally-appropriate diabetes self management education curriculum
Engaged African American health professionals, including a pharmacist and a dentist, to serve as faculty for self management classes
Developed a video on the diabetes self management (DSM) program and services as a tool for community education and outreach efforts
Received national coverage of the DSM program in Winter 2005 Better Homes and Gardens Special Interest Publication, Diabetic Living Developed a phone support model to maintain follow up for DSM class graduates
Lessons Learned
Self management skills are best taught in an easy-to-understand format with time set aside for hands-on practice and periodic one-on-one consultation with participants
Having culturally competent faculty from the African American community and offering classes in a community setting encourages participation and increases client satisfaction
The black church continues to be one of the most successful venues for reaching African Americans—place matters
Providing a meal with DSM classes serves as both an incentive and a teaching tool, especially on issues of portion size and identification of and counting carbohydrates
Grantee Presentations
Program Materials